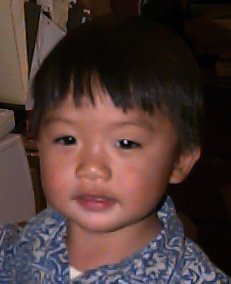 Alexander Z. Chun
Hi! I'm Alex Z. Chun. Found another home for my web page, so here I am, again. Check for updates every few months.
---
Month 26
I'm slowing down in growth now and am a mere 33lbs now. I know a lot of opposites and can form pretty good sentences. My favorite thing is trains. Mom and Dad have to take me to the local hobby store twice a week now. Dad bought me an HO scale Thomas, Annie, and Clarabel. Dad said something about them being "gray-market"... Mom and dad went house hunting. We saw one house and ended up getting a school desk for me instead of the house! We eventually found one and will move in April. Here are some of my most recent adventures:
Month 23 Pictures
---
Mom and Dad's Wedding Scroll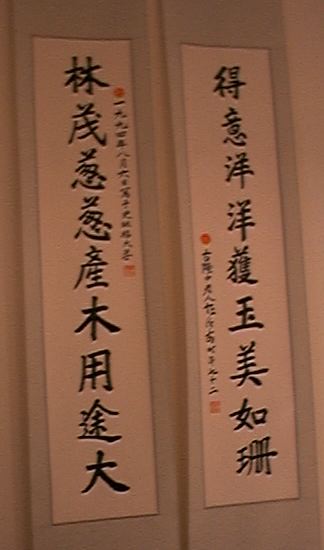 Grandpa Hu composed and scribed these scrolls for mom and dad's wedding in 1994. The Left side: The greenery vast forests produce lumbers providing great usages. The Right side: Quite elated for getting a jade as beautiful as a coral. The top characters form my father's name (Lin-De) and the bottom two characters form my mother's name (Ta-Shan).
---
Month 23

Aloha! I just got back from Hawaii. Do I look darker? Mom made dad and me matching aloha shirts. I am a real "local" boy and love plate lunches and shaved ice! I had much more fun playing in the ocean this year. I am now into asking "What's that?" every two seconds. I weigh about 30 lbs. and am 36 inches tall. Poor mom and dad have aching backs! I am graduating to another room at daycare now that I'm two (just about). I decided to go as a tiger again this year for Halloween. Mom had to "expand" my costume from Grandma Hu a bit to fit me again. GRRRRRRRR!!!!
Month 23 Pictures
---
Month 20
Well, this has been major milestone month. I can say a 3 word sentence now ("more cereal daddy"), stack blocks, identify 6 body parts, run, follow simple commands, and have tantrums! I went to Seattle for July 4th and had a great time seeing the fireworks go BOOM! I also spent a day on my uncle's fishing boat. I've adopted a bunny from my collection of friends. His name is "Bun" and he follows me everywhere. Cars, trains, and Pooh are also a big hit with me. See how much I've grown since month 13 with my playhouse picture. I'm close to 35 inches and 30 lbs now. Mom says my next milestone will be to drive her and daddy nuts by asking "What's that?" every 2 seconds.
Month 20 Pictures
---
Month 17
Hi all. I am almost up to running speed now. I can climb up the sofa by myself. I also know about fifteen words. On occasion, I can put two of them together too (e.g. "moore joos" and "mine daddy"). I am getting pretty strong now and like whapping my mommy with and without kitchen utensils. I went to the Monterey Aquarium with my cousin Cynthia and have been to the Palo Alto Children's Zoo a few times too. I am beginning to learn that not everything is a "dog". I help dad out in the yard now with my shovel, rake, and water bucket. Somehow, watering my shoes seems easier though.
Month 17 Pictures
---
Mr. Alex
Hi all. I just came back from the Apple board meeting. Guess who is in charge now! I guess I'll let dad be my towel boy... Ha ha. Actually, I'm at my Uncle Dave's wedding banquet. Of course, this is probably the last time I'll let mommy get anywhere near me with that tie!
Mr. Alex Pictures
---
Month 13
Hi all! Long time, no pictures... I'm a whole 13.5 months old and have most all of my teeth now. I am working on the final two right now. Boy do I drool a lot! Sometimes I try to brush my teeth with a baby toothbrush, but I'd rather chew on it. Whatever works... My diet presently consists of low salt Spam, chicken, string cheese, bologna, Ritz crackers, and LOTS of green beans. Mmmmmmmm... I am walking on my own now and can climb up on the sofa by using my toy container as a step. Dad made me a playhouse out of the box my turtle sandbox came in. Grandma Chun painted it for me while she was out here visiting. I also got a big "Little Tikes" play gym. I am getting more verbal now and every once in a while will chat for a few minutes. Dad has also been taking me to the driving range. He says I am already behind Tiger Woods as he had a six month head start on me. Also enclosed are pictures of my new cousin, Andrew Peng, and his family who now live in Hayward. My grand uncle and aunt are visiting here from Hunan Province in China.
Month 13 Pictures
---
Surprise!!! Alex lets the cat out of the bag...
---
Month 11
Hi! I'm getting ready for Halloween. I have to get into character you know. I have two costumes this year. I will be a tiger (Thanks Grandma) by day and Superman (Mom caves in to commercialism) by night. I still can't walk yet, but I sometimes balance upright. I am also getting ready to move up to the big kids room at school. I have to learn to feed myself and drink out of a sippy cup. I kinda think the sippy cup makes a better sprinkler though.
Month 11 Pictures
---
Month 9
Hello! I just got back from a trip to Hawaii. I got to meet my great grandparents on my grandmother's side for the first time and sample a lot of local food. My favorite was Guava Chiffon cake. Yummy! I spent a little time on the beach. The ocean was kinda big and scary though. I am now an expert crawler and am pulling up on things. I should be crusing around any time now. I am also starting to complain when mom says NO!
Month 9 Pictures
---
Here's my new buddy and his family...
---
Month 7
I am sitting up on my own now, but if I have my hands full, I lose my balance and fall over (oops). I can also scoot backwards and sit up. I got two more bottom teeth (four in all) and am starting to get my top teeth in. My favorite food is rice crackers because I get to get it all over! I like to watch my cat, Opus. She sniffs me but always manages to just get out of arms reach.
Month 7 Pictures
---

Eileen T. Chun
January 20, 1998